The Vault Blog - DATE: September 2, 2015
Among the tapes of the past
Posted: September 2, 2015 17:42:35 by ANDERS JAKOBSON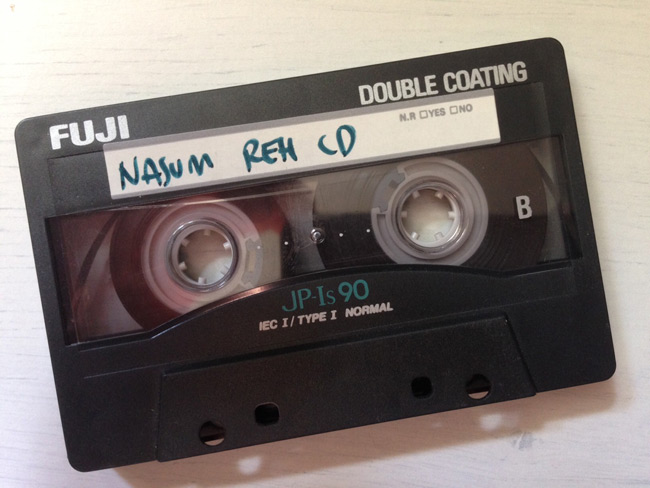 A few years ago I realized that tapes were back in style. Not that they replaced vinyls or CD's but tapes were definitively back on the merch tables. That puzzled me slightly. Who has working tape players anymore? Well, I have...

Back in the day I had crates of tapes and I still do. It was very easy during the tape trading days to send a tape to someone and get something in return. New musical experiences came through a cassette and not through a lyric video on YouTube. A part from that it was really easy to record something on a tape, copy an album from vinyl or CD or just simply record yourself. Preferably in the rehearsal room.

For many years I've been longing for the day that I can go through all my tapes and make digital copies of them. Hidden on many unmarked - of course - tapes are pieces of gold. I know that I have a number of rehearsals and studio outtakes somewhere but I don't know exactly where, so the task of going through it all and cataloging everything is quite a big one. But I have started.

A wrote a little bit about it on Facebook a couple of weeks ago. I shared the photo above and wrote the following text:

I'm digging through my many boxes of (mostly unmarked) cassettes in search of gold, and this is a prime example. This has an in-studio rehearsal recording of Mieszko and I working on songs for "Inhale/Exhale". There were 26 songs on the tape of which five (5!) never made it to the final record! It's not the studio outtakes I've been searching for but an instrumental guitar/drums rehearsal with excellent sound. On the other side of the tape there's a similar recording done for the "Regressive Hostility" songs AND a few hardcore:ish songs for a little project called Illuminate we fooled around with from time to time. This is prime nostalgia for me, going back 15-20 years in time.

In the future I hope to make some sort of companion thingy to "Grind Finale" with all this rare stuff I have on tape. It will not be a physical or even official release, but I want to do SOMETHING with all this stuff. Unfortunately, my tape player isn't really in it's best state so I have to find another one that will play the tapes in the best quality possible, or get mine cleaned and served. But I really want to share this stuff as soon as possible!

Well, now my tape player has been through some maintenance and it was totally worth the cost because it plays the tapes much better now and I can continue to look for the good stuff. Since the Facebook post I've found a few more rehearsals from some other sessions, most recently one featuring original drummer Rickard with Mieszko and I sharing guitar duties working on the songs for the Psycho split 7" EP and "Grindwork" recording. It hasn't got a crystal clear sound for sure, but it's something.

Consider this a first update on this tape project. Next time I will be more specific with what I have found and hopefully I will have found what I'm really looking for: the four discarded songs from the "Inhale/Exhale" recording. I know that they are somewhere...
Share this blog post
BLOG CALENDAR
<<
September 2015
>>
Su
Mo
Tu
We
Th
Fr
Sa
1
2
3
4
5
6
7
8
9
10
11
12
13
14
15
16
17
18
19
20
21
22
23
24
25
26
27
28
29
30
SEARCH OR SUBSCRIBE
SEARCH THE BLOG

SUBSCRIBE
•
Subscribe to the blog via RSS
ABOUT THE VAULT
Nasum might not be a performing band anymore or existing in the normal sense, but the legacy remains under the sharp supervision of the founding member Anders Jakobson. THE NASUM VAULT is the "umbrella" for a number of projects collecting information and items from the Nasum history.

The first project was The Vault Blog, introduced in 2014 as a place to share "interesting, semi-interesting or uninteresting things" from the Nasum Vault - stories, images and what ever. The second project was The Rare Nasum, audio goodies published on Bandcamp - rehearsals and live shows. Side by side with these two projects, there is The Official Nasum YouTube Channel where video oddities are posted.

This page is the collective portal for The Nasum Vault, grouped in the three different time periods of the band. This page will be updated when new stuff is added, and you can always help the Vault to grow by supporting The Rare Nasum - see more info at the bottom of the page.

Last updated: February, 2021.