The Vault Blog - MONTH:
Mars

, 2020
The many covers of Nasum
Posted: March 16, 2020 16:49:55 by ANDERS JAKOBSON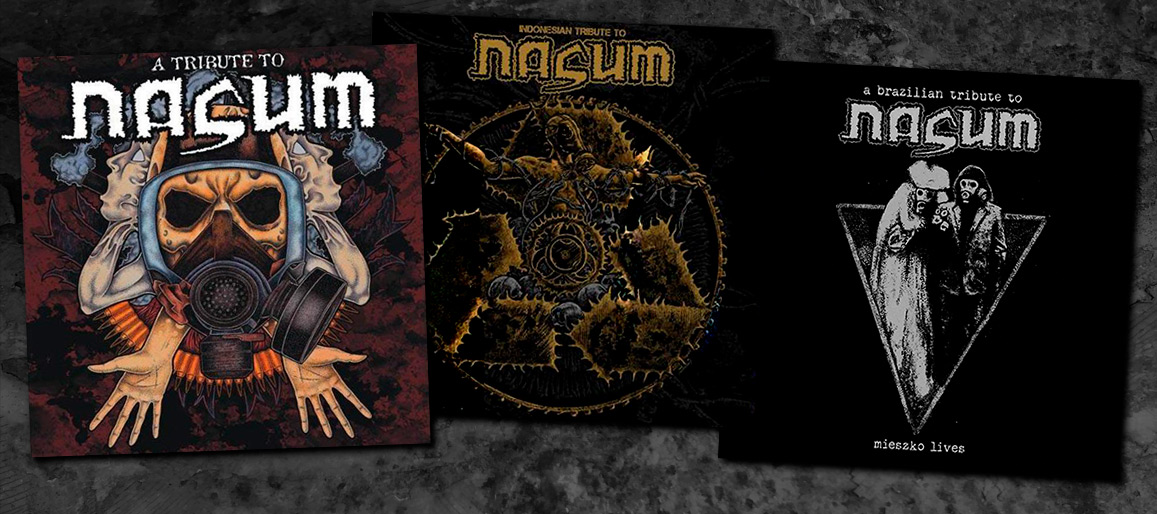 Last week, in the midst of all the Corona madness, the third official tribute album to Nasum was released. Yes, there are THREE full albums of Nasum covers available. In 2009 Power-It-Up released the international "A Tribute to Nasum" with 53 bands, two years ago, Playloud Records put out "Indonesian Tribute to Nasum" with 28 bands from Indonesia, and this week "A Brazilian Tribute to Nasum - Mieszko Lives" with 40 - yes, you guess it - Brazilian bands was released by The Grind Records.

That gives a total of 121 bands on these three records. But there are plenty more bands that has covered Nasum over the years. I just heard Slavestate from Belgium doing some blasting all though they officially are a sludge band.

It's very weird being the object of three full albums of tributes. How did that happen? Imagine if I could travel back in time to 1983-84 and tell that little boy that just had decided to start playing the drums and had no song writing capabilities whatsoever, that roughly 35 years late his music would be covered by bands all over the world... It's WEIRD in capital letters! What excites me the most is that the stuff I have been a part of has inspired so many bands and that they really have listened to the songs when they learned them. I am happy about some of the odd song choices some bands have made. Really cool.

But it's still very weird to listen to the albums. To be perfectly honest, not a lot of these 121 bands have managed to play the songs as they were written. Some are slightly wrong and others have completely failed to play the riffs. But that's understandable - it's not particularly easy picking out a riff when it's played with a raw guitar tone to blasting drums. I have recorded my fair share of covers during the years and I would guess that not a lot of them are 100 percent perfect. I remember back during the "Helvete" sessions when we recorded Napalm Death's "Unchallenged Hate". I had listened to two studio recordings and looked closely to "The DVD" and managed to pick out the song, but when we played it for Shane Embury when he came to record some bass for us, he said that it wasn't entirely right. And last year, I picked out the song "Dragnet" with Napalm Death, which was close to impossible to get right. There were two mixes from "Scum" to listen to and a chaotic live rendition I found on YouTube. And there were also some tabs and midi versions online that were completely wrong. In the end it was just a matter of making a logical version of what I thought I heard.

And that might be it. I believe every song writer has as a certain gallery of melodies and patterns when they write riffs that are based in taste and logic and when picking out some other song writers stuff that gallery is applied on what you think you hear. It becomes the logical rendition of the songs - unless you hear it completely clear.

I think a lot of bands have done this on these tribute albums. "This must be the logical way the song is written". And again, that's understandable and fine, but it really fucks with my head when listening to the songs! If someone really KNOWS the Nasum songs, it's me. All though I can't play them all on guitar I know every melody, nuance, rhythm and detail and when something isn't right, it really messes me up. It's like if someone was to list the members of the Beatles and repeatedly saying that they are John, Paul, George and Bingo. It's almost right but it isn't!

And again - for the third time - I understand this and I am very fine with it! For me it's very obvious when a band has gone that extra mile to get as close as possible (but adding their own touch along the way). That I appreciate, as well as every time I hear a drummer mimicking a detail I added to the song just to keep myself entertained. That is very cool.

I'm not going to list any favorites or rank the songs on these tributes. I am just happy that they exist and that I have inspired these bands with something. Perhaps they found something new in Nasum's music when they learned the song that they can develop in their own stuff.

YouTube bonanza!

A TRIBUTE TO NASUM (POWER-IT-UP, 2009)


INDONESIAN TRIBUTE TO NASUM (PLAYLOUD, 2018)
[Only 5 out of 28 songs...]
A BRAZILIAN TRIBUTE TO NASUM - MIESZKO LIVES (THE GRIND, 2020)
Share this blog post
BLOG CALENDAR
SEARCH OR SUBSCRIBE
SEARCH THE BLOG

SUBSCRIBE
•
Subscribe to the blog via RSS
ABOUT THE VAULT
Nasum might not be a performing band anymore or existing in the normal sense, but the legacy remains under the sharp supervision of the founding member Anders Jakobson. THE NASUM VAULT is the "umbrella" for a number of projects collecting information and items from the Nasum history.

The first project was The Vault Blog, introduced in 2014 as a place to share "interesting, semi-interesting or uninteresting things" from the Nasum Vault - stories, images and what ever. The second project was The Rare Nasum, audio goodies published on Bandcamp - rehearsals and live shows. Side by side with these two projects, there is The Official Nasum YouTube Channel where video oddities are posted.

This page is the collective portal for The Nasum Vault, grouped in the three different time periods of the band. This page will be updated when new stuff is added, and you can always help the Vault to grow by supporting The Rare Nasum - see more info at the bottom of the page.

Last updated: February, 2021.