The Vault Blog - MONTH:
May

, 2020
Preorder new/old merch!
Posted: May 26, 2020 15:15:08 by ANDERS JAKOBSON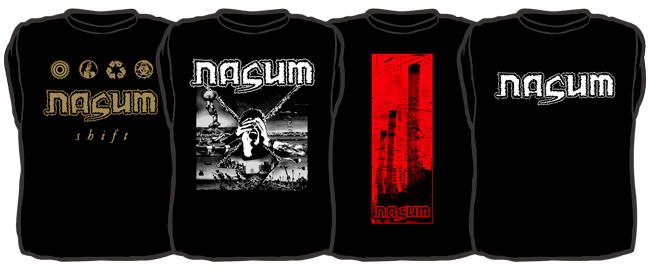 Today the merchandise page has been updated with four "new" Nasum t-shirt designs. I have decided to do a new round of "on demand" printing for the fans. It's not "on demand" in the common sense, but almost. To begin with I did a little research on the Nasum Facebook page regarding which past designs people was interested in. A lot of people wanted to see the old Shift and Red Factories again. As I always think bands should offer a plain logo t-shirt I added that to the lot and as a special bonus I decided to do a reimagining of the first Nasum design ever, the Blind World t-shirt.

So those four are available now in sizes S to 4XL. The preorder window is open from May 26 to June 10, then I will order all the t-shirts that has been preordered AND paid. Last time I did this, I did do a few extras of the common sizes (S to XL) but I am not entirely sure I will do that this time. So if you really want one of these designs, order and pay before June 10!

One final thing: from now on I will only accept payment in SEK, which is easily done for those using PayPal. The currency rates are always going up and down so it's much easier to have a fixed price in SEK. I have added aprox. prices in EUR and USD on the page to give you a ballpark figure of what the price is.

So place your orders at the merchandise page, use the GREEN BUTTON to the right to place your order!
Share this blog post
BLOG CALENDAR
SEARCH OR SUBSCRIBE
SEARCH THE BLOG

SUBSCRIBE
•
Subscribe to the blog via RSS
ABOUT THE VAULT
Nasum might not be a performing band anymore or existing in the normal sense, but the legacy remains under the sharp supervision of the founding member Anders Jakobson. THE NASUM VAULT is the "umbrella" for a number of projects collecting information and items from the Nasum history.

The first project was The Vault Blog, introduced in 2014 as a place to share "interesting, semi-interesting or uninteresting things" from the Nasum Vault - stories, images and what ever. The second project was The Rare Nasum, audio goodies published on Bandcamp - rehearsals and live shows. Side by side with these two projects, there is The Official Nasum YouTube Channel where video oddities are posted.

This page is the collective portal for The Nasum Vault, grouped in the three different time periods of the band. This page will be updated when new stuff is added, and you can always help the Vault to grow by supporting The Rare Nasum - see more info at the bottom of the page.

Last updated: February, 2021.