DETAILED DISCOGRAPHY:
Human 2.0/Human 2.01
CD/LP/Picture disc LP
Released by:
• Relapse Records, USA (CD - world)
• Distortion Records, Sweden (LP)
• Ritual Records/Howling Bull, Japan (CD - Japan)
• Vinyl Maniacs/GMR, Sweden (PD LP - World)

Recording info:
• Recorded at Soundlab Studios, Örebro, Sweden October 2-17 and November 14-December 6 1999 by Mieszko Talarczyk, Mathias Färm.
• Mixed by Mieszko Talarczyk.
• Edited January 2000 by Dan Swanö, Mieszko Talarczyk and Anders Jakobson at the home of Swanö, Örebro, Sweden.
• Mastered at Sonorous Mastering, Tempe (AZ), USA March 13 2000 by Dave Shirk and Bill Yurkiewicz.

Line up:
Mieszko Talarczyk - guitar, bass and lead vocals
Anders Jakobson - drums and low vocals
Jesper Liveröd - bass
Comments by Anders Jakobson:
About the recording...

The recording of "Human 2.0" was split into two two week sessions with a month in between them. The reason for doing this was I believe to spread out the vocals during a longer period. Today I don't remember how much we managed to record during the first session, but I imagine it was all the drums, all the rhythm guitars and some vocals.

I remember listening to the finished and mastered version in the new Soundlab Studios which was built after the recording. Mieszko and I were very pleased with the result. In hindsight things could have been much better. "Human 2.0" was partly destroyed in the mastering. But the half crappy sound gave us something to beat next time.

About the title...

I came up with the title during 1999 since there was so much talk about the new millennium, the Y2K bugs and so forth. It felt modern to have a 2.0 title indication the next version of something, this time a human. "Human 2.0" was a great concept that was developed after the first "Matrix" movie.

We all had different interpretations of what "Human 2.0" actually meant so we didn't have an official explanation in interviews. It was up to everyone to have their own interpretation.

About the cover...

After deciding on the title we had a meeting with Robert Ahlborg to discuss the cover. We wanted a clean and sick cover. Other bands had dark covers so by having a white cover we really stood out. We discussed many ideas for the cover and Robert shot pictures of a skinny friend of his and painted the chords and holes and added the logo tattoo in Photoshop. Someone reacted funny to the cover in a forum:

What does everyone think of how amazingly homo-erotic the new Nasum LP cover art is? Grindcore records are supposed to have dead skeletons and war victims with blood and chainsaws and stuff like that - not Calvin Klein boy models with electronic items plugged into their nipples.
How much do you want to bet it's a Elton John or Sting CD that is being pumped into that white-skinned boy's nipple? I know it. I KNOW IT, PEOPLE! WAKE UP! Be warned people! If Nasum come to your town - they may attempt to make out with you!

The picture of us shot in a sofa is another funny story. Mieszko and I went to Robert's apartment and posed in his sofa. Jesper was living in another town near Stockholm and Robert moved to Stockholm to study, so the picture of Jesper was shot in Stockholm months later. Robert then patched everything together brilliantly. The image was used by many magazines instead of our promo pictures.

About the Japanese version...

"Inhale/Exhale" was never released in Japan but Relapse had made a deal with Ritual Records/Howling Bull for "Human 2.0". We had already come up with the brilliant idea of updating the title to the Japanese release and make it "Human 2.01". As you all know Japanese CD's always have bonus tracks which is a way to make Japanese buyers support the domestic market instead of buying imports.

Relapse added the songs from the split 7" with Warhate. The only thing we had to do was pick out the exact length of the songs as written on the backcover.

About the vinyl versions...

The LP for "Human 2.0" was yet again a collaboration by Relapse and Sweden's Distortion Records. It was made on white vinyl and limited run on black. The only regret with this release is that we sort of forgot to rename the album - it should obviously had been "Human 2.02"...

The picture disc ("Human 2.03"?) was made by Sweden's Vinyl Maniacs/GMR in 2005 when they released the first three albums on this format.
Navigate through the discography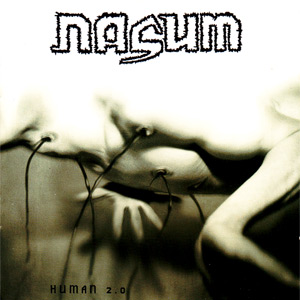 Tracklist
1. Mass Hypnosis
2. A Welcome Breeze Of Stinking Air
3. Fatal Search
4. Shadows
5. Corrosion
6. Multinational Murderers Network
7. Parting Is Such Sweet Sorrow
8. The Black Swarm
9. Sixteen
10. Alarm
11. Detonator
12. Gargoyles And Grotesques
13. När Dagarna...
14. Resistance
15. The Idiot Parade
16. Den Svarta Fanan
17. We're Nothing But Pawns
18. Defragmentation
19. Sick System
20. The Professional League
21. Old And Tired?
22. Words To Die For
23. Riot
24. The Meaningless Trial
25. Sometimes Dead Is Better

Bonus songs in Japan:

26. ...And You Were Blind To What Lay Beyond The Horizon
27. Stolen Pride
28. Silent
29. Losing Faith