The Tour Blog
Italy times three and Graspop Metal Meeting
Posted: June 27, 2012 16:23:22 by Anders Jakobson
Last week we made three club shows in Italy and then the Graspop Metal Meeting in Belgium. I'll spare you the boring negative rants about early flights, long drives in a minivan without a working AC and all that stuff…

Italy then: Well, one can say that Italy has a special place in the Nasum history as it was in Cremona the "last" Nasum show (with Miezsko, that is) was held. It was a good weekend together with Regurgitate and friends. Not too unexpected, some people who were at that show came to these three shows as well, and it is as always a joy to meet long time fans. It's fun to meet new fans as well, but some of you should at least learn my first name if you want to get my attention. I'm not called Jacobs or Andres! But never mind that.

As a direct support on these three shows we had the pleasure of having Singapore's Wormrot. These guys gave the audiences an aural bashing with their super tight and entertaining grindcore. I get vibes from both old Napalm Death and Assück when I hear them and they are definitively one of the best "new" grindcore bands around these days. I hope our paths meet again!

The two first shows in Milano and Rome were slightly disappointing when it came to the sheer number of visitors. They were far from packed, but obviously we were very happy about the people who showed up that were totally into it. This changed at the last show in Bologna which was held at a huge squat with a large yard and a smaller venue. Loads of people and the temperature in the venue even beat the legendary hot show at Maryland Deathfest! The overall temperature in Italy during these days was quite high for some frozen Northern grinders as ourselves, but it was nothing compared to the burning heat in that venue! We had to cut three songs towards the end to be able to finish the show without either passing out or bursting into flames. Too bad because it was one of those shows that could have kept on forever.

To close this part of this story, I'd like to say a sincere graze mille to our very punctual and secure driver in Italy - Gianluca.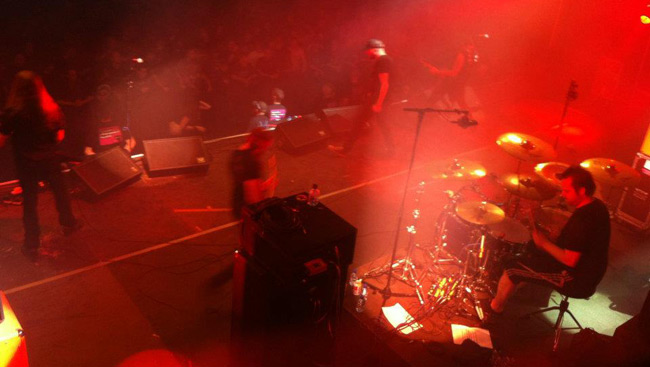 The Graspop stage from a different view.

A flight later and we were in Belgium attending the huge Graspop Metal Meeting. This is one of those festivals that is almost too big, and although we played at the smallest stage, it still was bigger than what other festivals have to offer as their main stage. GMM is a festival that has been around for ages and the organization is top notch. No complains there. Brutal Truth played at our stage just before us so it was quite fun to see these guys again, all though just for a brief moment. After us Ihsahn played, which turned some people in the Nasum touring party into little fanboys when the very friendly ex-Emperor guitar player turned up backstage. I had a very unexpected brief meeting with someone from Agathocles, which really closed the circle on this 20th anniversary Farewell tour.

Some irritating technical glitches on stage made the show suffering a bit. Hopefully it wasn't that obvious for the audience, but I think we all felt that we could have performed better. As always it was fun, but unfortunately not one of the best shows so far.

Next up: Sweden's biggest festival in Borlänge and With Full Force in Germany, where we have an extremely late stage time at 02.45, so get some sleep during the day if you plan to see us there...