DETAILED DISCOGRAPHY:
Untitled
Split 7" EP with Skitsystem
Released by:
• No Tolerance Records, Sweden
Recording info:
• Recorded May 8-10 2001 by Mieszko Talarczyk in Soundlab Studios, Örebro - Sweden

Line up:
Mieszko Talarczyk - guitar, bass and lead vocals
Anders Jakobson - drums
Jesper Liveröd - bass and low vocals
Comments by Anders Jakobson:
About the recording...

This was actually the last non-album recording session we did, and we killed two birds with one stone recording five songs for this split 7" with Skitsystem and three for the "Polar Grinder" compilation LP.

Most notable with this recording is that Jesper really grew as a singer. His growls are great on this recording and "X Marks the Spot" is a really cool song. Another thing is that the track "Godmorgon, Idiotjävel" became a fan favourite in Sweden, probably due to it's in-your-face title that roughly can be translated to "Good Morning, You Fucking Idiot". People yelled for the song on all Swedish gigs after the release, but we never played it. We rarely added songs from the smaller releases in our live set.

About the logos and the cover...

Skitsystem was visiting Soundlab Records to record their "Enkelresa to rännstenen" album and the songs to our split 7" EP. I got a call from Mieszko where he told me that Skitsystem had drawn their logo in "Nasum letters" in the guestbook and that it could be a cool idea for the cover.

I immediately started to do a Nasum logo in "Skitsystem letters" and re-did the Skitsystem logo in "Nasum letters" and brought a few print outs to the studio to show. I got thumbs up from both camps.

However, the way the cover is designed you kinda get the feeling that it's a Skitsystem 7" EP called "Nasum". Although the Nasum logo is designed in the Skitsystem style it's not really that distinct that you immediately "get it".
Navigate through the discography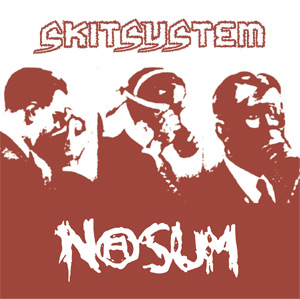 Tracklist
1. Godmorgon, Idiotjävel
2. Understand: You are Deluded
3. Fear of the China Syndrome
4. Suicide
5. X Marks the Spot