The Vault Blog
Grindcore parking lot
Posted: January 26, 2017 11:24:23 by Anders Jakobson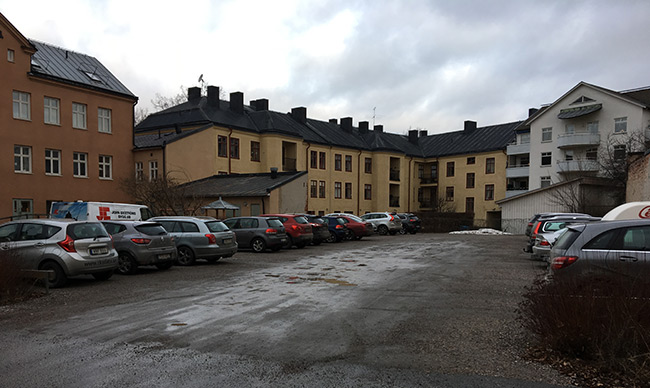 Believe it or not, but this parking lot is the birthplace of Nasum. Obviously it hasn't always been a parking lot. Once upon a time there was a run down house here that had a few rooms for bands to rehearse in. The house was called Bokcafét Räven (roughly "The Bookclub The Fox") that might or might not have had some illegal operations on their agenda. In the early 90's I started rehearsing with my crossover band F.R.M.T. in one of the rooms. It was small and probably smelly but it was my very first rehearsal room and we had a lot of fun playing there every week.

A while later we started to share the room with some youngsters. Two of them were called Rickard Alriksson and Dan Wall and as F.R.M.T. disbanded I started a new band with these two younger guys. That band was Necrony. That eventually led to the forming of Nasum, first as a side-project to Necrony, then as our main band.

Before we ultimately moved out of this room we shared it with a little outfit called Millencolin, but nobody probably remembers them anymore...

Today, soon close to 30 years since I first moved in there, it's a parking lot and it's been that for quite a while. I go by this place quite often and remember the crazy and creative times we spent in that room.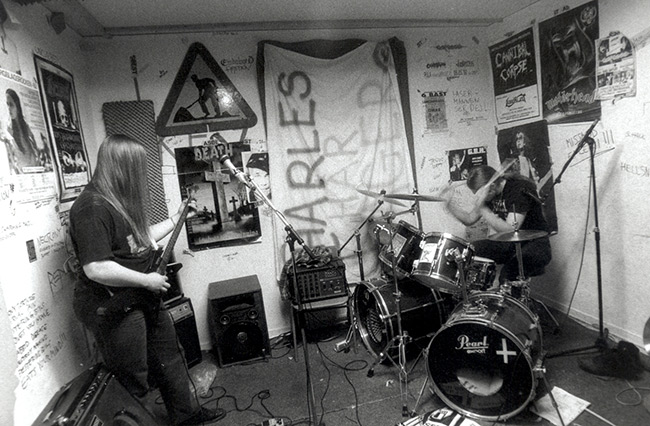 Anders and Rickard rehearsing some Necrony stuff inside Bokcafét Räven, 1992. Photo by Mieszko.
BLOG CALENDAR
<<
January 2017
>>
Su
Mo
Tu
We
Th
Fr
Sa
1
2
3
4
5
6
7
8
9
10
11
12
13
14
15
16
17
18
19
20
21
22
23
24
25
26
27
28
29
30
31
SEARCH OR SUBSCRIBE
SEARCH THE BLOG

SUBSCRIBE
•
Subscribe to the blog via RSS
ABOUT THE VAULT
Nasum might not be a performing band anymore or existing in the normal sense, but the legacy remains under the sharp supervision of the founding member Anders Jakobson. THE NASUM VAULT is the "umbrella" for a number of projects collecting information and items from the Nasum history.

The first project was The Vault Blog, introduced in 2014 as a place to share "interesting, semi-interesting or uninteresting things" from the Nasum Vault - stories, images and what ever. The second project was The Rare Nasum, audio goodies published on Bandcamp - rehearsals and live shows. Side by side with these two projects, there is The Official Nasum YouTube Channel where video oddities are posted.

This page is the collective portal for The Nasum Vault, grouped in the three different time periods of the band. This page will be updated when new stuff is added, and you can always help the Vault to grow by supporting The Rare Nasum - see more info at the bottom of the page.

Last updated: February, 2021.