THE NASUM VAULT - 1998-2004: THE ALBUM YEARS
Live at CBGB´s 1999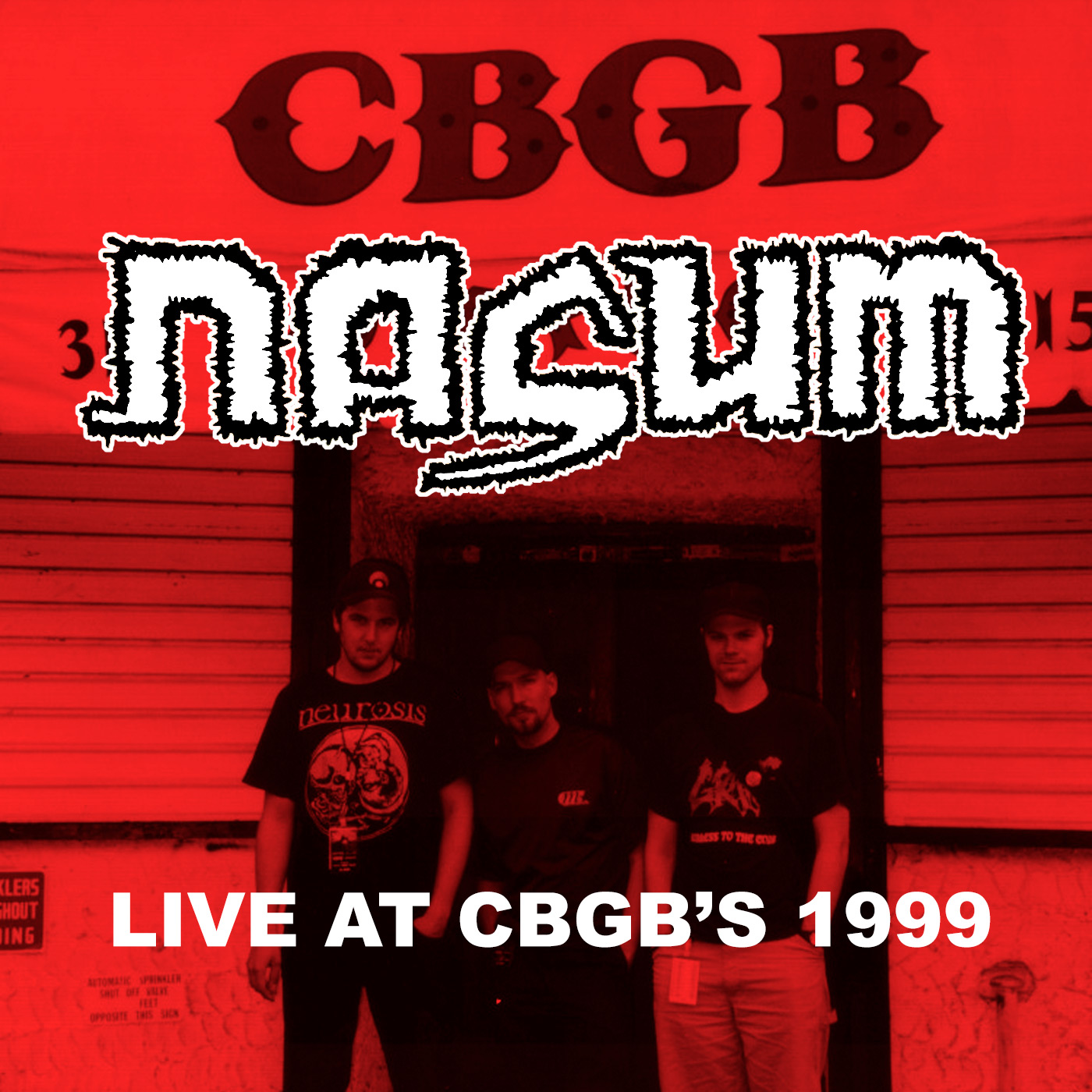 NOTES ABOUT A LIVE SHOW

This will be a very long text so be warned... For a short summary, scroll to the end!

PART ONE: TOURING THE US

The first proper tour Nasum did was in the summer of 1999 when Relapse invited us to be part of the Contamination tour package. We had done two gigs earlier several years before so this was the real start for Nasum as a live band. We had released "Inhale/Exhale" in 1998 and as offers for shows and tours came our way, Mieszko and I had come to the conclusion that we needed a bass player and thus Jesper became the third guy.

I believe that the rough plans for the tour was there when I asked Jesper if was interested in going to the US tour with us. I think I recall that I used the CBGB's gig as a "selling point", but that might be an afterthought. Never the less, when it was clear that we would go to this legendary New York venue, Jesper was the one with the goosebumps. I think that Mieszko and I didn't really understand what the deal with CBGB's was. Jesper had the entire NYHC thing going on so I understand why he was very excited to go there.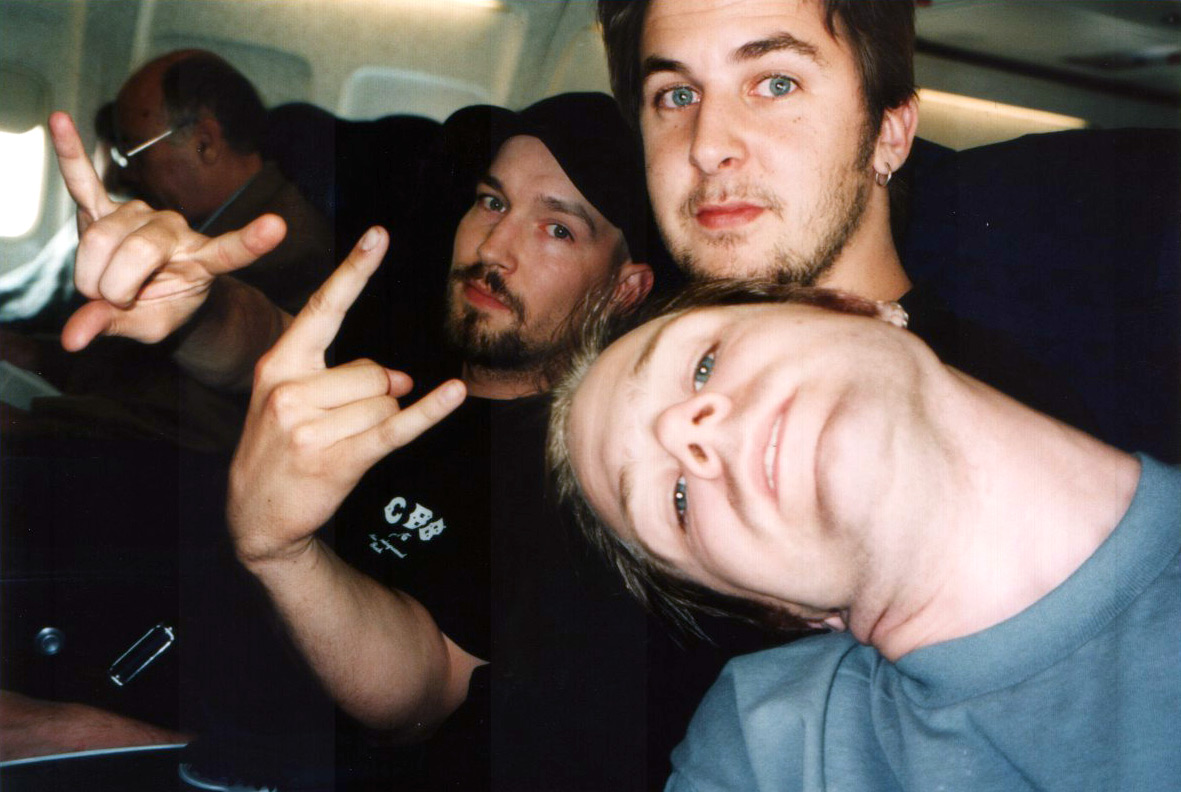 Early "groupie" of Nasum. At least one neck suffered from this.

So we went to the US. The first show was at the Milwaukee Metalfest and then the tour started. We rode in a brand new van with the tour manager Jay. The other bands in the tour package were Exhumed, Morgion, Soilent Green and Today Is The Day. All fellow Relapse bands and all very different from each other. Those were the days. We learned a lot from the start. These bands were veterans when it came to touring and we quickly saw the unwritten laws and routines you needed as a touring band. We also saw that they all had their own backlines. Obviously we didn't. I think the idea was that I should play on Cole's (Exhumed) drum set, but that was fucking huge and weird and I think I only played on the first day of the tour. I think Tommy from Soilent Green offered his set as well, but in the end I played the set that Rhett from Morgion had. It was smaller and in better shape than the huge sets and easier for me to use. I can't believe how nice these guys were sharing their stuff without asking anything in return.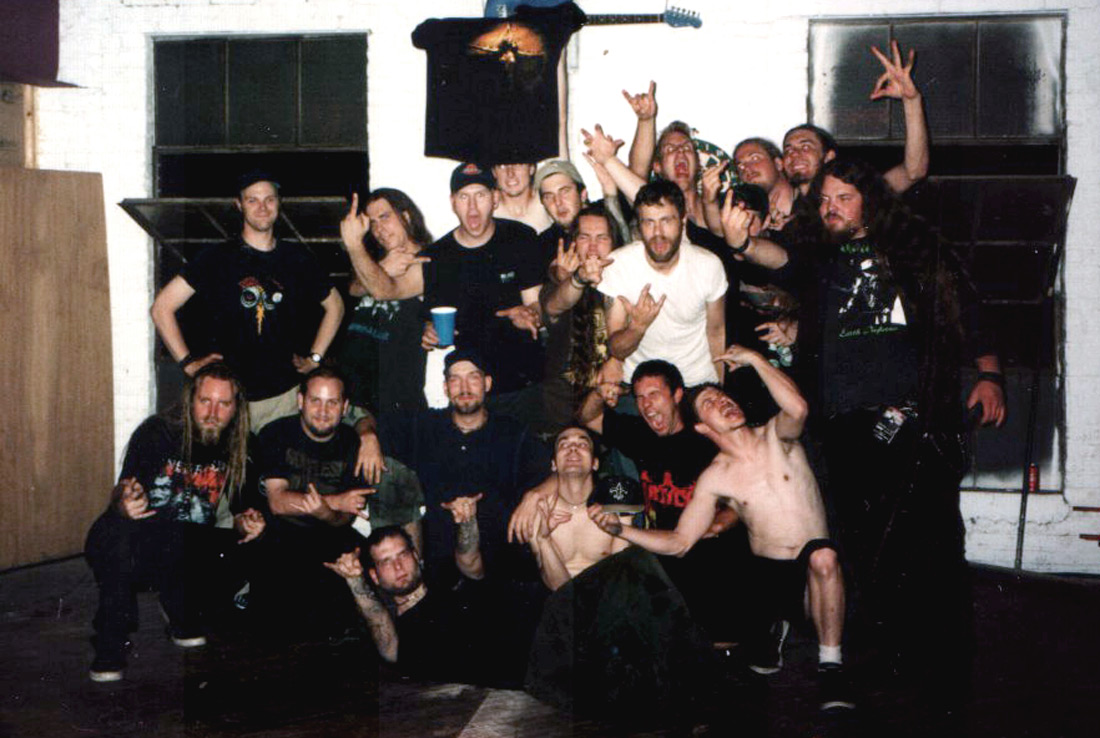 19 humans, five bands.

Anyway, we begun the tour after the show at Milwaukee Metalfest and drove west to Lincoln, NE, and I would say looking at a map that that is the absolute center of the US, horizontally. From there we travelled towards the east where our last shows were in the New York/Pennsylvania area. The tour package went on without us for a few more weeks going south and then west, but then we had fucked off back to Sweden.





PART TWO: NEW YORK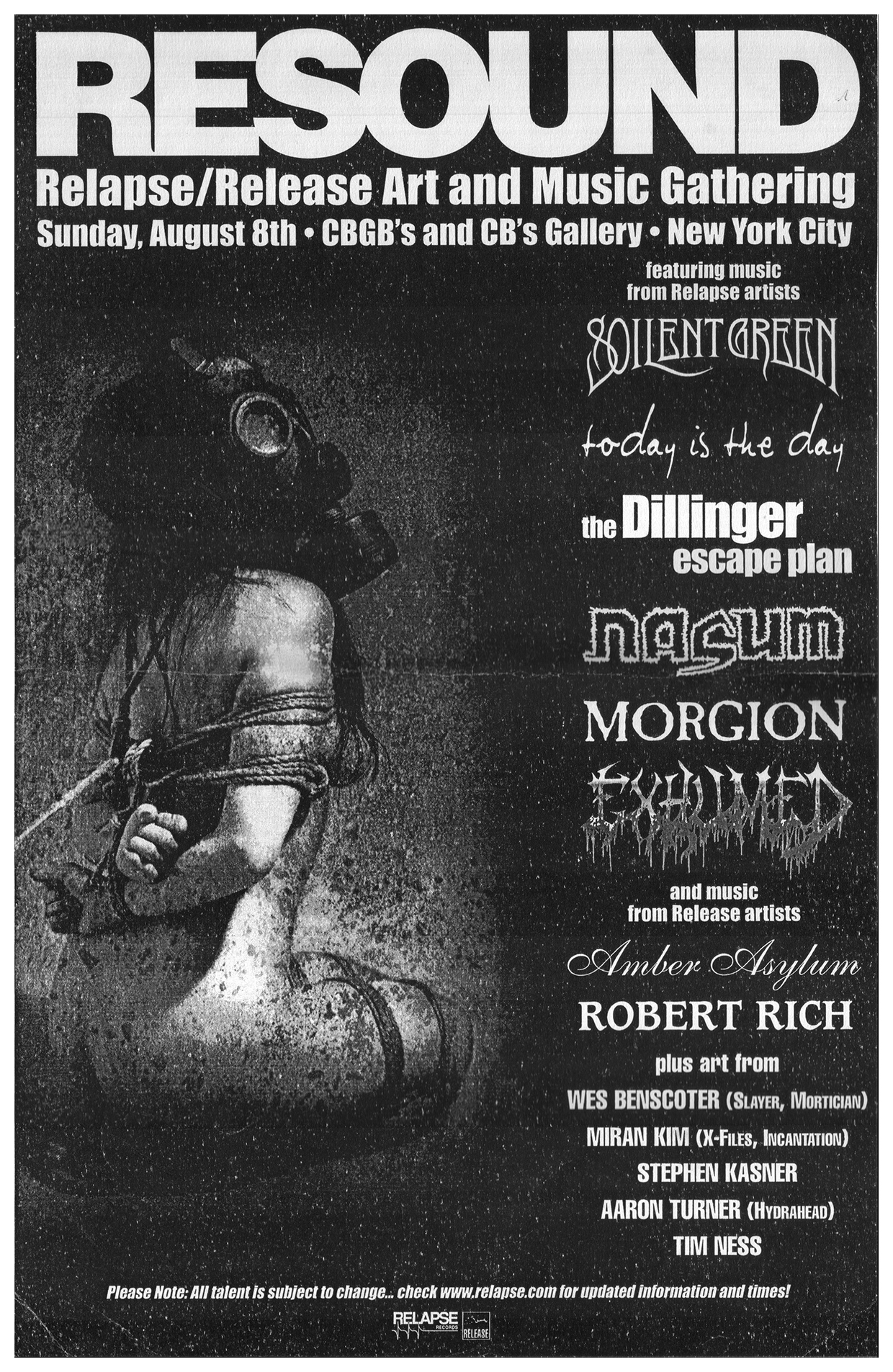 New York was towards the end of our part of the tour. For the CBGB's show, Relapse had expanded the concert to be an event called "Resound: Relapse/Release Art & Music Gathering" where The Dillinger Escape Plan and Release artists Amber Asylym and Robert Rich were added to the bill. I don't remember Robert Rich at all. Perhaps he didn't make it, but I do remember Amber Asylum. The art part of the event was in the CB's Gallery next door, a place that was way nicer than CBGB's... The first thing that struck me was how run down the venue was. It was dark and covered in stickers and grafitti and the backstage area was not particularly nice. The bathroom had no door, which meant that I witnessed Brann from Today Is The Day take a dump. The joy of touring! I understand that this sounds like I am a bit posh, but that's not the case. I just meant that the place wasn't what I had expected.

I can't remember the exact details from the day. I do remember that we went somewhere to get a slice of New York pizza. I have a vivid memory of standing in line and not really knowing what to get once it was my time to order and the guy behind the counter had zero patience and basically yelled "Get out of the line!" and stressed out as hell I just picked something to wolf down while my heart was beating like crazy. It was good though.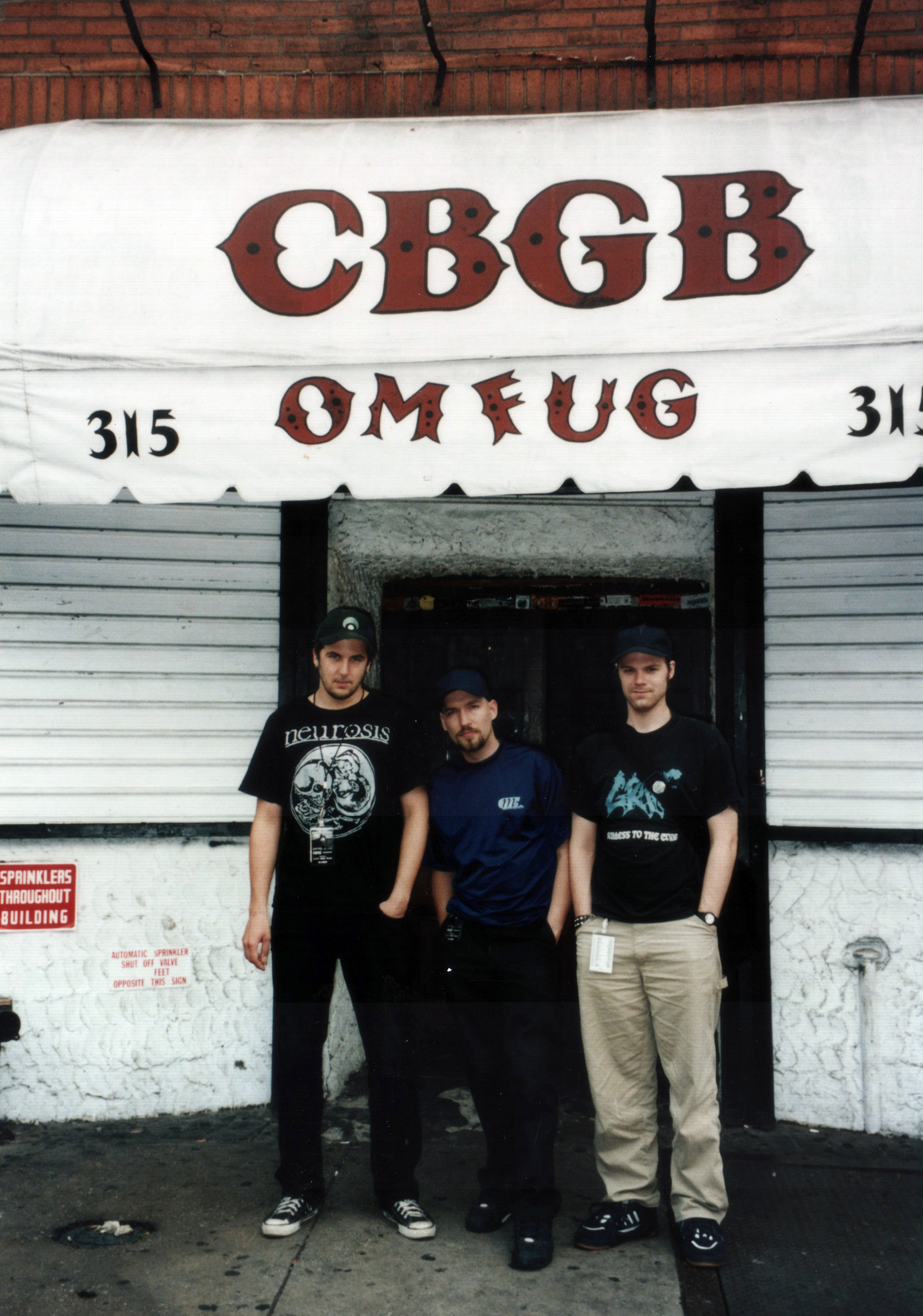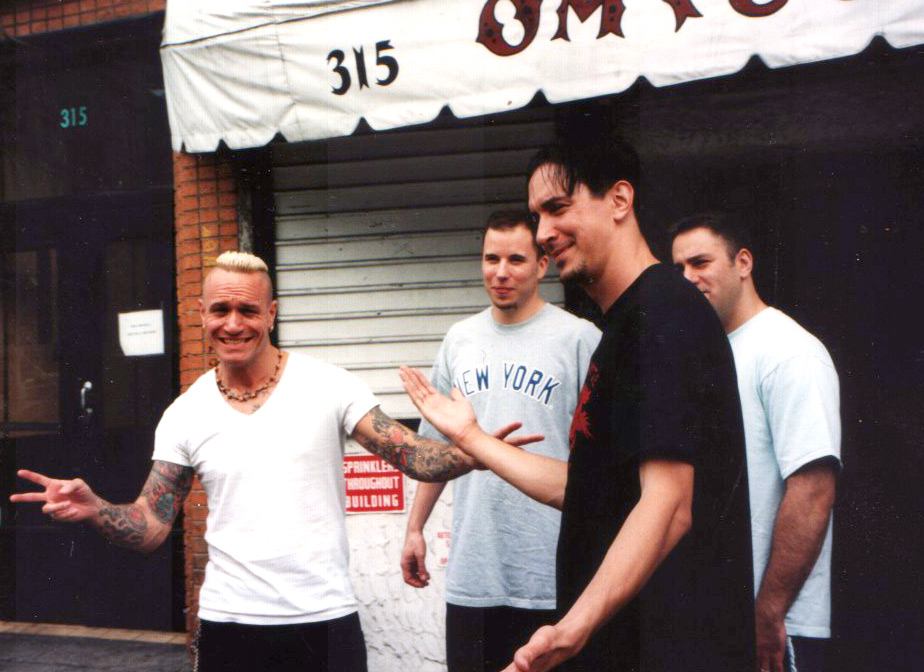 As many other bands we took a band photo in front of the entrance. Just minutes after four guys who looked like they were in a band came up the street for a photo shoot. It was a band, it was Sick Of It All. How about that?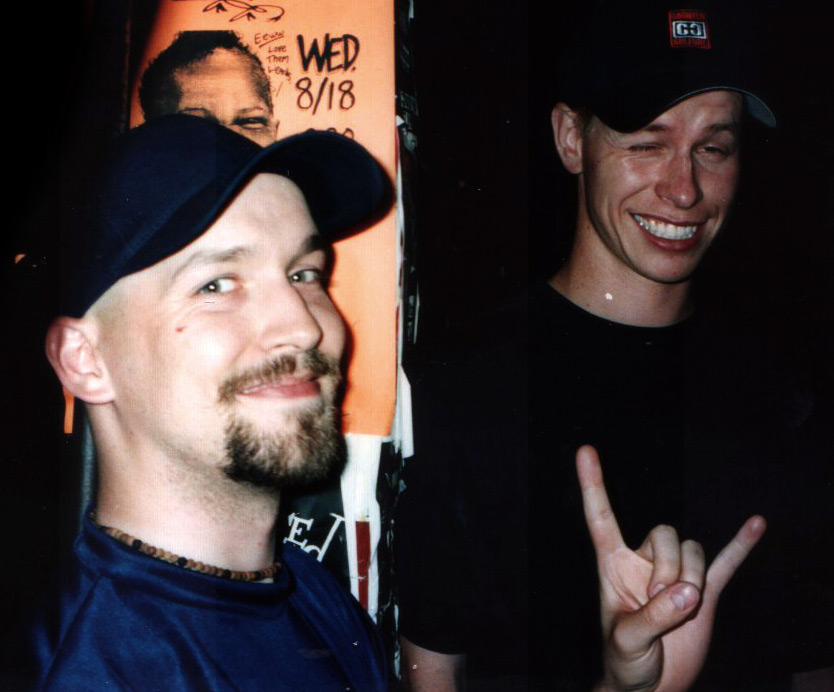 During the evening a somewhat familiar face came up and talked Swedish to us. It was Magnus, guitarist in the Swedish skatepunk band Satanic Surfers, who just happened to be on vacation in New York and decided to come by. I remember it felt weird talking Swedish to someone else than Mieszko or Jesper after ten days in the US. Why I can't say but it was.

PART THREE: THE SHOW

I believe that the order of the bands on the poster is accurate when it comes to the order of the shows. Soilent Green and Today Is The Day took turns headlining on the tour so we played after Exhumed and Morgion, and obviously we recorded the show. The source for this release is a DAT with a soundboard recording. I would guess that we know that this option was available in advance as it's mentioned on the unedited version that we are "recording tonight" but the sound and production didn't reach the quality we imagined. I believe this DAT was stashed in Soundlab Studios after we had returned to Sweden and had a listen to it. The dream of having some good live stuff with excellent sound wasn't fulfilled and the DAT was put in a box with no intension of being public. Well, better late than ever, I guess.

That said, this recording has been edited. Not that much though. As many other shows, this was partly destroyed by technical failures. On the unedited version there's a pause after the fourth song that felt forever that day. Nothing is worse than being on stage and not being able to play. Every minute feels like an hour. In reality the pause was just a few minutes long. I cut it out and I also shortened the breaks between some of the blocks of songs. Still it's 30 minutes of Nasum in New York.

Here's the setlist and some notes along the way:

1. INHALE/EXHALE
2. TOO NAKED TO DISTORT
3. THERE'S NO ESCAPE
Yeah, this is the "warm up" opening of the setlist that we had on this tour, with the exception of the show in Cincinnati, OH, where we went hardcore and opened with "Löpandebandsprincipen". This time - compared to the Milwaukee show - it works as a charm.

Mieszko keeps calling CBGB's for "CB's" during the night. I would guess that nobody else says that. Another thing that sort of proves that Mieszko wasn't totally aware of CBGB's cult status...

4. I SEE LIES
After this song came the "big" pause. Mieszko says that the show is our second to last on the tour. At that point, it was probably true, but we did do two more shows. The last one was supposed to be in Philadelphia but it was cancelled for some reason, and very quickly a show in a warehouse was put up in Lancaster, the then hometown of Relapse. That was one crazy show. At some point, I played with a balloon in my mouth... I wish that one got filmed!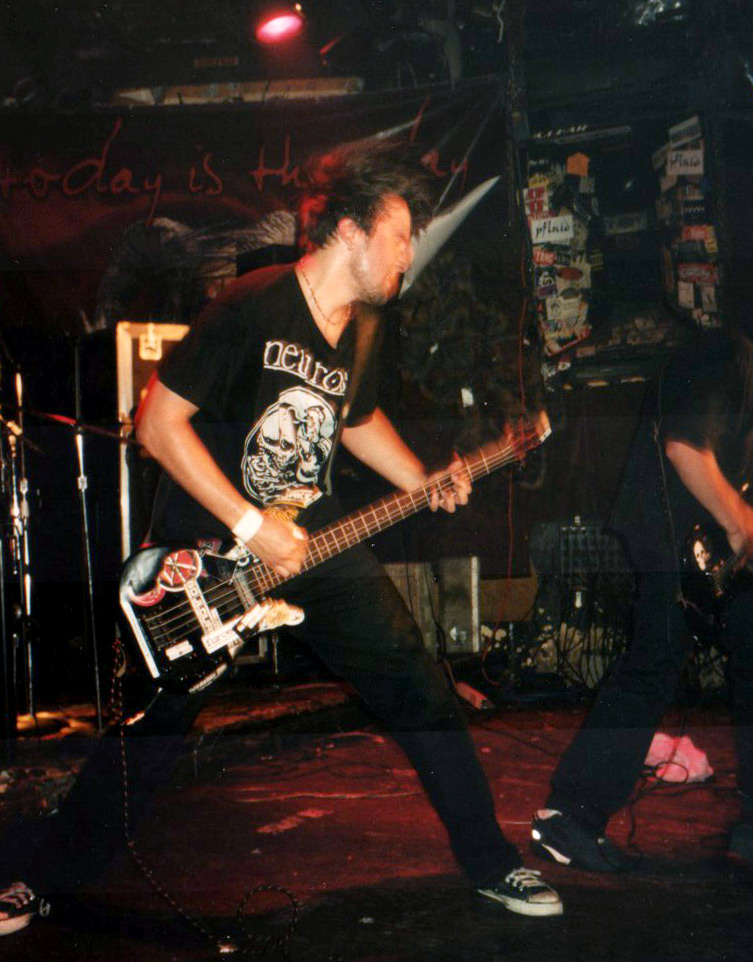 5. NO SIGN OF IMPROVEMENT
The sound gets significantly different here when the bass comes to life. Don't know if it was totally missing during the first part of the show, but now it's REALLY here... The guitar sound get's different too.

Also, I think you clearly can hear that Mieszko's voice had taken quite a beating. This was the ninth show is as many days and we had never toured like this before. I am surprised Mieszko didn't blow his voice totally.

6. MY FEAR
7. THE MASKED FACE

8. LÖPANDEBANDSPRINCIPEN
Relentless version of one of my favorite Nasum songs. Easily top-3 of the songs I wrote.

9. EVISCERATED BY THE FIEND
10. SHAMBLER
2x Quake worship here, although the lyrics for "Eviscerated By The Fiend" are... well, it's the phrase from Quake (which is "A Fiend" not "THE Fiend" and I believe Mieszko sings that here) and then some words about society to make it political, haha!

11. THE SYSTEM HAS FAILED AGAIN
12. TESTED
13. INFORMATION IS FREE

14. FANTASIBILDER
One of the best songs of "Industrislaven" that was in the setlist through out the entire Nasum life span. A little tradition of sorts was started on this tour. The final line of the song is "Jag kan inte förstå" (which is Swedish for "I can't understand"), that sounds like "Die, innocent scum!" when Rickard sings it on the recording, so naturally Mieszko started singing that instead of the original lyrics as an inside joke. It's very audible here!

15. END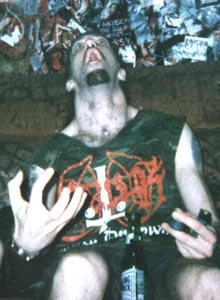 "This song goes out to Danny Lilker!" Mieszko yells in a broken voice. Yes, the thrash metal legend was at CBGB's. We hung out a bit back stage before the show. Who would have thought that 13 years later, Danny and Brutal Truth would be the opening act for Nasum's second US tour? That aside - I really love this song. It was slightly obscure for most fans, I would assume, and it was always fun noticing how people thought it was over when that short pause comes close to the end!

16. SILENT SANGUINARY SOIL
I can't really understand why Mieszko accentuates the title so completely wrong and weird. He spoke and wrote good English. Guess it was just something that happened. I like the fleshy mosh intro to this song and live we apparently added blastbeats to the last part. Love this song!

17. MY PHILOSOPHY
18. DU ÄR BEVAKAD

19. SHAPING THE END
This song was always fun to play live. After the second chorus I could get crazy with odd fills and such, and then after the last vocal part it kind of builds towards the end. The nights that I felt really in the zone I could really go bananas playing this song and this was perhaps one of them. Too bad the fast parts are a bit sloppy...

20. BULLSHIT TRADITION (Dropdead)
Another relentless version! Also fun to realize that Dropdead, like Brutal Truth, would be the support act for the next US tour.

21. DISAPPOINTED
22. THE WORLD THAT YOU MADE
No other bands did extras on this night apart from us. I guess the Americans wanted us to get a little extra spotlight, which was kind of them. I could hear on the unedited live recording that Mieszko sort of teased some more songs but I guess two was what we were allowed to do. "The World That You Made" is an obscure gem in my opinion. One of those songs that I kind of wished could have lived longer in the future live sets. We might have played on the Napalm Death tour a year later, but perhaps not. Still it's an original song in the Nasum collection.

PART FOUR: POST-SHOW

The Dillinger Escape Plan played after us. I don't think we saw them at Milwaukee Metalfest but we had listened to their "Under the Running Board" EP and perhaps an advance of "Calculating Infinity" that was about to be released roughly a month after the show. I remember that they dressed the stage in different lights and had their own light guy. I also remember that none other than Mike Patton came up on stage and did a song with them. I also remember that the show kicked ass. I had never seen anything like it at that point. Mieszko bought a "girlie" t-shirt from the band and wore it, while the touring party laughed. But he was a tiny guy and didn't want to wear tents.

Later on I remember that Mieszko was about to leave with a girl that had been hanging around for the entire evening. We were told that it was Billy Milano's girlfriend. If I remember correctly, one Relapse employee slipped Mieszko a condom, while another one said "Nothing good will ever come out of this". That particular line got stuck in me - and perhaps struck Mieszko at the moment as he opted not to leave with that girl - and I put the line in the lyrics for "Sometimes Dead Is Better" on "Human 2.0".

Instead Nasum and Bill and Brann from Today Is The Day and a few Relapse guys shared a hotel room before continuing the tour with the final two shows.

PART FIVE: POST-CBGB's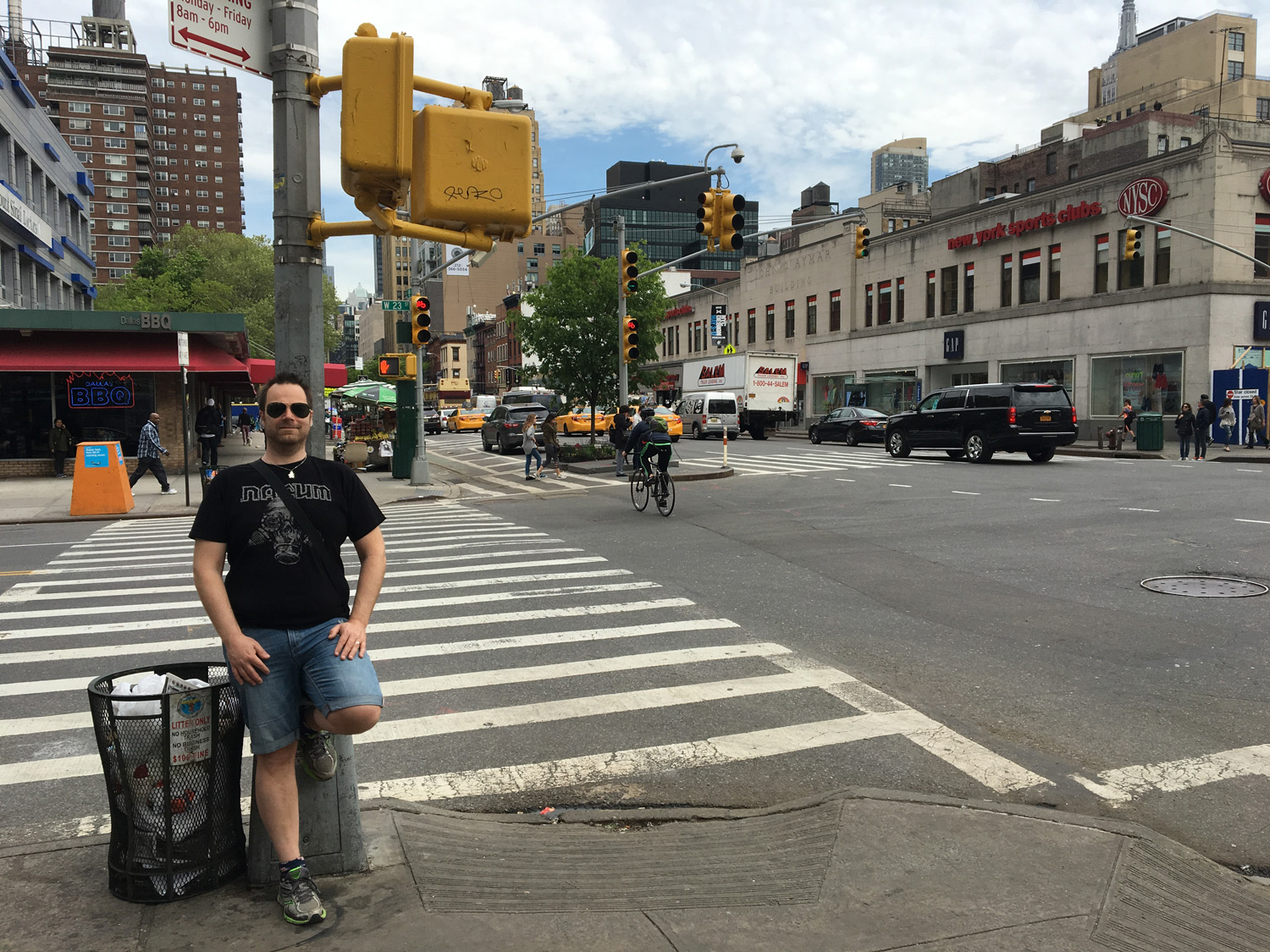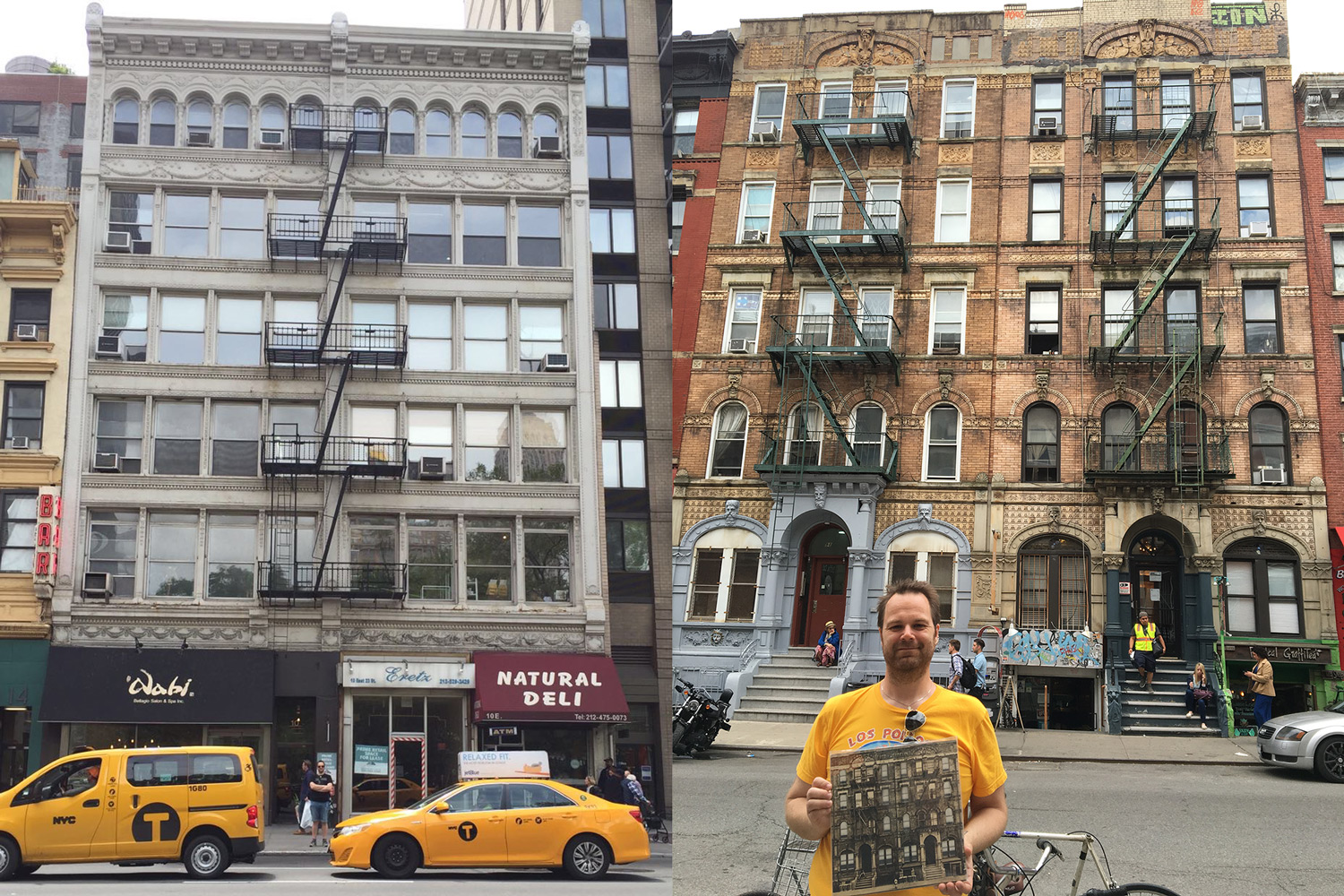 Dressed to Kill cover spot, outside Kiss' first rehearsal loft and the Physical Graffiti buildings.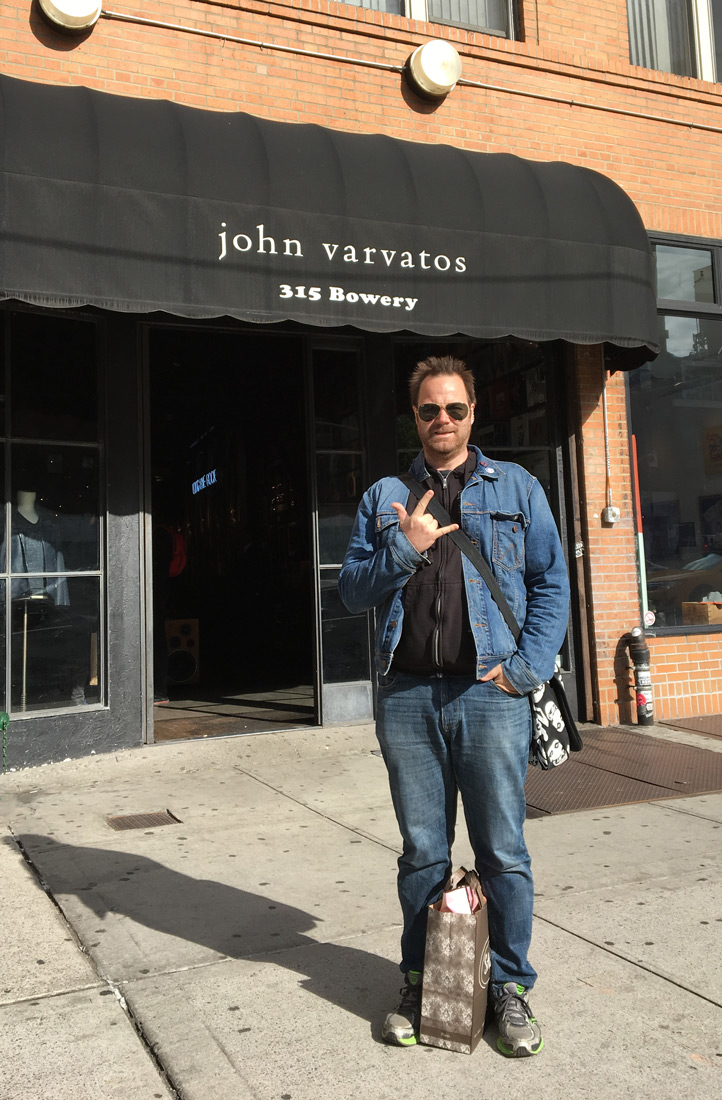 In 2016 and 2017 I went to New York with my wife. On the first trip I had a mission to visit a few places that was part of the rock and roll history. I stood outside Kiss' first rehearsal place at 10 East 23rd Street, I posed as Ace Frehley on the "Dressed to Kill" cover at 23rd Street 8th Avenue. I stopped at 53rd and 3rd, I stood outside of Electric Ladyland (52 West 8th Street) and watched the "Physical Graffiti" buildings (96-98 East 8th Street) with an actual copy of the album and so on.

But more importantly, I randomly found myself at 315 Bowery where CBGB's used to be. It was weird. Such an important place for the music history, and for a brief moment Nasum, gone and replaced by a boutique.

NOTES IN SHORTER FORM

Nasum toured the US in 1999. We played at CBGB's in New York. The show was recorded and has been on a DAT since then. It has recently been transfered and edited for a Bandcamp release. Some pauses has been removed. And, yeah, that's about it.

- Anders Jakobson, December 2021
HELP ME FUND THE VAULT AND THE RARE NASUM
I have a lot of Nasum "vaults". There are the digital vaults, harddrives, CD-R's and whatever that contains some stuff. And then there are the analog vaults. Boxes filled with documents and notes and boxes filled with tapes containing rehearsals and rare stuff. I'd be more than happy to share this with the fans, but I need some funds to take time of from work to really do all that boring excavating that's needed to find and document everything.

I have put together a GoFundMe page for this: gofundme.com/the-rare-nasum and any donation is appreciated. You can also support this cause by buying The Rare Nasum stuff at Bandcamp. Or you can make a donation without going through GoFundMe or Bandcamp - just contact me at nasum@nasum.com. Everything that comes in via these channels are ear marked for a future massive excavation.

I really hope you can help me to preserve The Nasum Vault for the world. Thanks!

- Anders Jakobson.