THE NASUM VAULT - 1998-2004: THE ALBUM YEARS
Live at Fuck the Commerce III 2000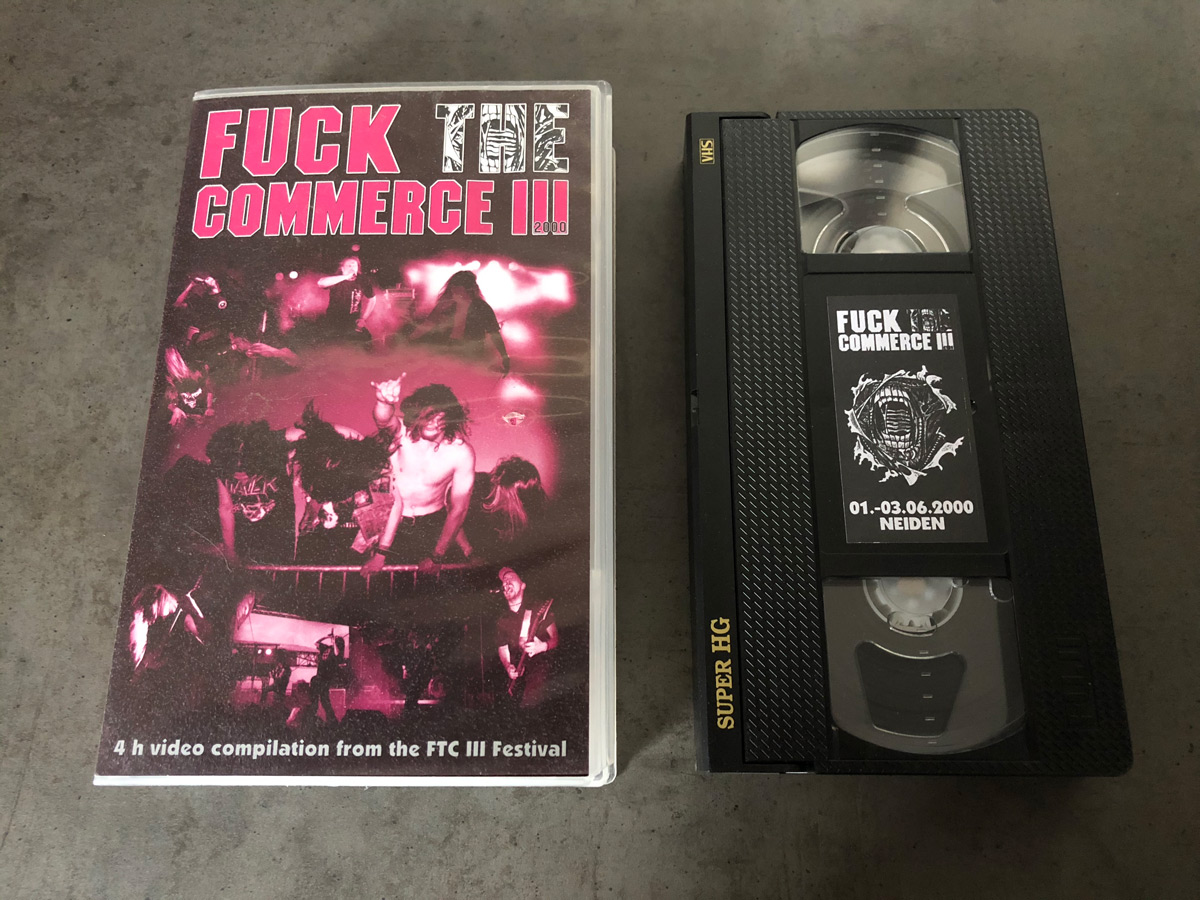 NOTES ON A LIVE SHOW

I have had this video tape from Fuck the Commerce III laying around for years and years and never got to see it. I have a lot of shit but I do not have a VCR plugged in all of the time.

If memory serves me right I got this tape from Jason Netherton in Misery Index. He is on it as well, performing with Dying Fetus, but had no use for a PAL VHS. I might have gotten it during the Misery Index/Coldworker tour in 2006, or perhaps he mailed it to me later. Anyway, it's been in a box with other memorabilia for 10-15 years.

Fuck the Commerce was a great German festival that Nasum attended two times. First in 2000, where we shared the ferry with Rotten Sound, and then in 2004 (FTC VII). I remember that we were asked to attend the festival in 2003 as a replacement for some other band but it was too short notice.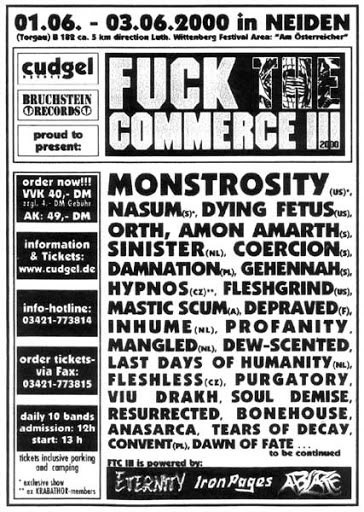 In 2000 the festival was in Neiden about four hours from Rostock where the ferry stopped. At this trip we had for some reason asked our friend Dennis (who some years later released "Shift" on vinyl) to help with driving. I really don't know why, but we had a fun trip with lots of jokes and shit. We played a very small show in Malmö the day before so it was a mini tour of sorts.

FTC III was the first European show for Mark 5 of Nasum, i.e. the power trio with Mieszko, Jesper and myself. We had done the US tour one year earlier and a number of odd shows in Sweden. This was in fact the 21st Nasum show historically. I can't say that I remember a lot from this festival but we were the headline act on the first day of the festival and I would believe that it was our biggest show so far at the time.

The video has five songs - almost - and visually it's shit, as expected. No multi camera action in HD... But the sound is pretty good, a soundboard recording that is surprisingly heavy. But it has been added to the visuals slightly out of sync which is annoying. Anyway, the songs are pretty interesting with a few classics and some that left the set list soon after this show. "Du är bevakad" is one of my favorites from  "Inhale/Exhale" and "Silent Sanguinary Soil" - that fades out here - was always fun to play. 

Anyway - something for the die-hard fans. Enjoy!

- Anders Jakobson, February 2021


Songs:
No sign of Improvement
Inhale/Exhale
The Masked Face
Du är bevakad
Silent Sanguinary Soil


HELP ME FUND THE VAULT AND THE RARE NASUM
I have a lot of Nasum "vaults". There are the digital vaults, harddrives, CD-R's and whatever that contains some stuff. And then there are the analog vaults. Boxes filled with documents and notes and boxes filled with tapes containing rehearsals and rare stuff. I'd be more than happy to share this with the fans, but I need some funds to take time of from work to really do all that boring excavating that's needed to find and document everything.

I have put together a GoFundMe page for this: gofundme.com/the-rare-nasum and any donation is appreciated. You can also support this cause by buying The Rare Nasum stuff at Bandcamp. Or you can make a donation without going through GoFundMe or Bandcamp - just contact me at nasum@nasum.com. Everything that comes in via these channels are ear marked for a future massive excavation.

I really hope you can help me to preserve The Nasum Vault for the world. Thanks!

- Anders Jakobson.