The Tour Blog
Behind the scenes: The Farewell tour is completely booked
Posted: July 31, 2012 12:24:38 by Jesper Liveröd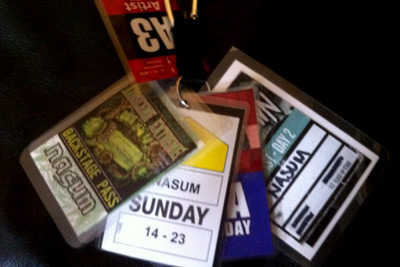 With the addition of the Ieperfest in Belgium just before our Asian/Australian trip, we have confirmed the very last show of Nasum's Farewell tour. We thought we'd share something about the thoughts behind the shows we have done and will do.

One big issue has been to figure out exactly how many shows we should play. There are a lot of opinions about that particular matter, within the band as much as with fans. How many shows is enough? How much is too much?

Initially, we talked about only doing one exclusive show in Stockholm, Sweden to end it all. That idea was quickly discarded – we knew that there were a lot of people in all parts of the world that wanted to see this thing live and to share the farewell with us. It felt presumptuous to think that everyone who wanted to see Nasum could have the possibility to go to Sweden to see us blast. Even more importantly – we wanted to take the show on the road and and show you people what Nasum was supposed to be about. Besides, we would have to prepare and rehearse almost as much for one show as for an entire world tour. So what the hell, right?

In order for the shows to feel exciting, we decided to limit the amount and spread them out over a few months. And when we are done we will not play a single note again. We wanted to avoid milking this thing too much, and even more importantly, we wanted to make sure we had enough energy to blast full throttle all the way and make the performances as totally fucking blasting as Nasum shows were meant to be. Thus, three month tours and playing every pile of bricks imaginable was out of the question.

One thing was especially important: above all, this tour must be about having a good time. It should be about celebrating the great, great genre of grindcore, about honoring the ideas and history of Nasum, but also to get a chance to hang out, party and basically spend some insane times together. Everything else is secondary. This must not be a career move, a cash-in, a degradation of Nasum's legacy or something that would take advantage of Mieszko's tragic destiny. Grindcore in general, and Nasum in particular, is supposed to be about spitting in the face of the mainstream, about musical ferocity and jagged energy. We will not become what we despise.

With the conditions set in stone, we set out booking shows. Booking a tour that covers more or less the entire world in a very limited time frame is not something that's done in a heartbeat. Since October of 2011, we have worked constantly with a booking agency to work out where we want to play, who is interested in having us, how we can make it work personally, etc etc. It's been a fucking ton of work. Visa applications, travel arrangements, designing, printing and ordering t-shirts, online stuff, trying to make ends meet, interviews, and a thousand other things has almost killed us. Many bands have a manager that takes care of all that boring biz, but in Nasum we choose to do as much as possible ourselves.

Even though we drew the line at one, or in some cases a few, show(s) per country, we somehow ended up with a daunting 61 shows! And still, there are many, many places we have been forced to leave out. Believe us, we really tried HARD to make it to Malaysia, South Korea, Greece, Turkey, Russia, Mexico, South Africa, and especially Indonesia and South America and other countries where there has been strong demand for Nasum. In some cases we couldn't find any time, in other cases we couldn't afford the travel, and in some cases sketchy concert organizers, or even religious holidays (!), kept us out.

Looking back now, we sometimes ask ourselves if we should have limited the amount of shows even more. But every (yes, every) show we have played this summer - from the first gig in Örebro via North America to the European summer fests, from the small, packed punk shows to the enormous festival stages - have been the best shows we have ever played. And we know we wouldn't have changed a single thing. As someone put it, "doing this tour was a good call", a pretty good summary.

Our expectations for shows ahead, from the Wacken, Vagos, Resurrection fests in Europe to Australia, Thailand, New Zealand, Japan and the final Euro tour in September/October, are through the roof.

We want to send special thanks out to Silvester, Greg, Martin and Johanna for working so hard to help us put this together, and huge kudos to our crew Janne, Antti and Hannes for going above and beyond to make the shows the blasting frenzy we want them to be. See you out there! NOW LET'S FUCKING GRIND!